Los Angeles Mobile Shredding
Some documents require the shredding to be witnessed. The most common are negotiable instruments. In simple terms, anything that can be traded directly for cash. This includes stock and bond certificates, coupons, and un-cashed checks. If you are destroying any of these, then mobile shredding is the only option.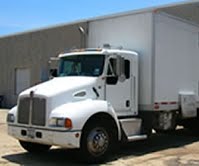 You may also choose to witness the shredding for your own verification. That is also a good reason to choose a mobile shredding service.
The one bad reason to choose mobile shredding is because the law requires it. This is simply not the case. Federal and California privacy laws require the destruction but do not prescribe the exact means to do so.
The process for mobile shredding is very easy. Since the shredders are not equipped with un-shred buttons you need to make sure you are only destroying what you want to. Once this is done just set them to the side and give us a call. In a couple of days, the truck will be at your door step. 

The driver takes them to the truck and the shredder does the rest. It is fed by 64 gallon bins so even large jobs go quickly. You are always welcome to watch the shredding. It is a great reason to get away from your desk for a few minutes. If you have on-going service, the driver just empties the bins that have be provided for you.

Get Free Quotes on Mobile Shredding Services in LA County
Los Angeles mobile shredding professionals have the tools and knowledge to get your shredding project completed quickly and safely. Call us today at (909) 963-0989 or fill out the form on the left to get free quotes from local providers.